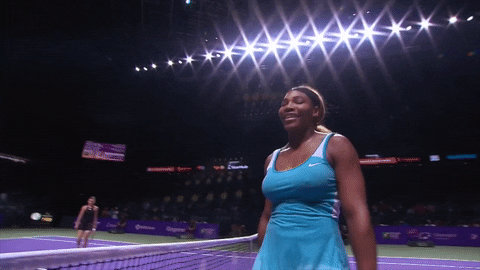 The tennis star is continuing her mission of diversity and inclusion with a new partnership.
What's the deal?
Serena Williams is teaming with Verizon Media and Yahoo Shopping to create a shoppable video series for her Serena fashion line. The series launches today and expands on the brand's "Everybody, Every Body," content series released in July. Williams first launched the content series with a viral video of her and a group of her friends wearing the brand's red Twist Front Dress talking about body confidence.
The shoppable video series will showcase Williams' fall 2019 collection — her first runway show as an independent designer — which she debuted at New York Fashion Week in September. The first shoppable video shows Williams highlighting the brand's style guide and her favorite looks from the collection. Williams first launched her namesake brand in 2018. She's also working with Nike to find emerging designers to collaborate on an upcoming apparel and footwear collection to be released next fall.
The bottom line:
The shoppable video series will air through February 2020.
Read: WWD, Yahoo Lifestyle
If you're a fan of streetwear design and the culture behind it, you may need to make time for "Friends and Family" this holiday season. That's the name of a new branded podcast and video series from Bleacher Report's B/R Kicks brand and Chinatown Market, the streetwear line launched by DIY designer Mike Cherman in 2016.
The first installment of the short series—it's only three episodes—dropped this week and features Cherman along with rapper Lil Yachty collaborating to design a new product. The product will be sold at B/R Kicks' second annual The Drop Up event, a mix of panel discussions and brand activations that takes place next Friday in Manhattan.
Read: Fast Company
Anyone who has watched a NASCAR race knows that sponsorship is a huge part of the sport. Just look at the cars covered in logos or a track wall during a race and you'll see multiple brands vying for attention. But over the years, what got lost was the NASCAR brand itself. For a sport defined by its sponsors, NASCAR is finally standing on its own. It's closing on the implementation of a three-year branding effort, led by agency Rare, to get to the heart of what the NASCAR brand really is and what it means to fans and to the people who work for the company.
Beginning in 2020 NASCAR's premier series will be known as the NASCAR Cup Series and will feature four cornerstone brands as premier partners; Busch Beer, Coca-Cola, Geico and Xfinity. It's a chance for a sport that has been struggling with attendance and grappling with its own identity to stand out and hopefully gain new fans.
Read: The Drum
The dynamic sports industry is rapidly expanding, creating job opportunities in a wide array of fields. The Preston Robert Tisch Institute for Global Sport at the NYU School of Professional Studies is a global leader in sports business education, positioned to provide you with the network, knowledge, and insights to accelerate your career in sports. No other graduate program has the unique combination of assets to build your capabilities.
Our leading-edge curriculum focused on sports tech and innovation, globalization, and the next generation of fan engagement
A focus on critical thinking skills to address the complex issues facing the dynamic sports industry, through "real world" experiences
International travel opportunities for a hands-on view of the global sports industry
Deep connections into all aspects of the sports industry, based in the sports capital of the world
An unwavering commitment to using the transformative power of sport to positively impact society
Sports guru Brandon Steiner, who lost control of his eponymous collectibles company this summer, is back in the game. The 60-year-old entrepreneur and founder of Steiner Sports Memorabilia — which famously inked a deal with the Yankees in 2009 to sell fixtures from the old stadium, including seats — plans to launch CollectibleXchange.com this week.
The new site will offer many of the same collectibles for which Steiner became famous in his 32 years running Steiner Sports, but it will operate more like online auction site eBay. Instead of selling autographed baseballs and signed jerseys directly, the site will link buyers with sellers, including athletes who want to offer their game-worn helmets and other gear directly to collectors.
Read: NY Post
Online image sharing platform Imgur has launched a dedicated in-app video game section, Melee. Described as the "most notable product launch since the company was founded in 2009," Melee will serve as a hub for Imgur's users to find and share esports highlights, news and updates on upcoming titles and content related to the gaming industry.
Through an integration with Twitch, Imgur will allow Melee users to log in using their Twitch account and import clips directly from the Amazon live-streaming platform. Early next year, the company will also launch a feature that will alert users' Melee followers when they begin a stream on Twitch and also send alerts when one's favorite streamers launch their streams.
Read: Hollywood Reporter
NFL Partners with Amazon Web Services to Improve Player Safety and 'Shape the Future of Football'
The Details
The NFL and Amazon Web Services today announced a new partnership to learn more about what contributes to player injuries, and how to prevent them. The NFL and AWS will work to create a "Digital Athlete" platform, described as "a computer simulation model of an NFL player that will be able to be used to model infinite scenarios within the game environment without any risk to the athletes." The deal is an expansion of the Amazon and NFL's existing partnership. The league already works with AWS for Next Gen Stats, an analytics product powered by Amazon's massive cloud arm that takes advantage of RFID chips inside of player jerseys and other sensors.
Hashtag Sports® reaches a community of 50,000+ innovators. Get in touch to see how we can showcase your thought leadership and content marketing initiatives.
Something missing that we should consider? Email daily@hashtagsports.com.