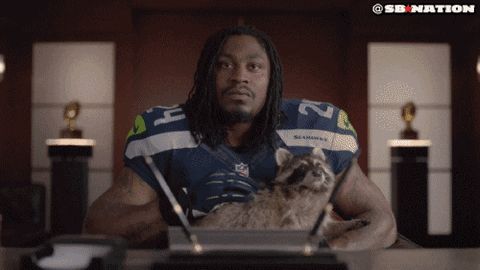 Marshawn Lynch and his former teammate will be team owners/captains in the new Fan Controlled Football League, set to kick off in June.
How will it work?
The two players will handle day-to-day operations and work alongside their team's fans to create the brand, voice and personality of their respective clubs. The fans will control the roster, the coaching staff and the play-calling.
Said Lynch on his interest in the opportunity: "Tech, gaming, and football, plus I get to really run this sh*t. That's what's up."
The bottom line:
The FCFL is being billed as the 'real life Madden.' With two fan-favorite NFL stars on board, the league is creating an exciting blueprint for the future of fan engagement.
The league features AWS DeepRacer, a 1/18th scale radio-controlled, self-driving four-wheel race car designed to help developers learn about reinforcement learning.
Developers will be able to race their cars against others on a physical track at events around the world.
Read: GeekWire
Fox Sports announced a new long-term television deal with the New York Racing Association.
The deal makes Fox Sports the primary national carrier for the NYRA and means that nearly every race from Saratoga Race Course and Belmont Park will be televised, enabling bettors to better follow their wagers.
Read: Broadcasting & Cable
Multinational broadcaster Eleven Sports has announced the launch of an innovative new viewing feature that will allow fans in its OTT markets to watch live action together in the same online space at the same time.
Watch Together represents a world-first for the sports market, and will enable subscribers to create a 'room' and invite up to four fans to watch the same live sports event with them.
Read: SportsPro
American football fans in China are watching tailored content on their mobiles while American fans get together for a "collective experience."
A majority of NBA fans in China watch curated content on Tencent platforms. Meanwhile, WWE is considering bring future events to China with a growing fanbase willing to pay a premium.
Read: CNBC
Swing into Miles as United Airlines Debuts MileagePlus Golf
The Details
Members of United Airlines' loyalty program, MileagePlus, have a new way to earn miles with the launch of MileagePlus Golf, a dedicated program that awards miles for purchases from four leading golf retailers. Through a dedicated website, and soon to be launched mobile app, MileagePlus Golf allows members to earn airline miles for purchases on golf merchandise and tee times all through one online portal.
Hashtag Sports® reaches a community of 50,000+ innovators. Get in touch to see how we can showcase your thought leadership and content marketing initiatives.
Something missing that we should consider? Email daily@hashtagsports.com.