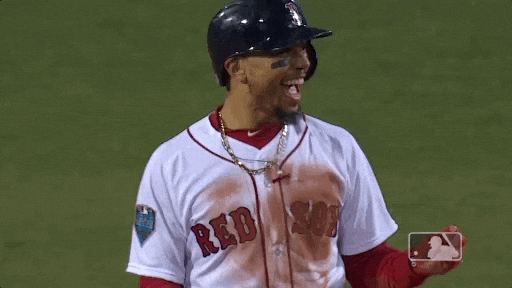 The two parties have finalized plans to create a weeknight show for baseball fans to follow game-by-game action in real time beginning in 2019.
What are the details?
The yet-to-be-named, co-produced program will stream every weeknight, and provide live look-ins, commentary and analysis on MLB games as they unfold around the league.
Tempo and convenience will be key selling points, designed to attract an audience of young multicultural fans, many of whom do not pay for television.
The bottom line:
The three-year deal was approved by MLB owners, and it adds baseball to a DAZN platform that's positioned itself behind John Skipper as one of the most comprehensive sports streaming services on the planet.
Read: Sporting News
The arena where his Washington Capitals and Wizards play opens an hour or so before games and empties out quickly after, but he expects all that will change in years to come as arenas become casinos of a sort — open nearly around the clock to capture a coming mania for legalized sports betting.
Leonsis says today leagues partner with big media companies but he expects big tech companies will enter that mix in coming years.
Read: USA Today
Bryant isn't exactly a rookie at creating stories, but now it's his job. He believes the reason he cannot sleep is because there's so much work to do.
One of the best basketball players ever is restless, not because of what he has accomplished—five NBA championships, an MVP and, as of last March, an Academy Award—but because of what he has not.
Read: Washington Post
Under the terms of the pact, Fox Sports and Fox Deportes maintain exclusive television broadcast rights to the World Series, one League Championship Series, two Division Series and the All-Star Game.
The agreement makes Fox the home to baseball's marquee events for the next decade, a nod to the fact that the deal lasts through 2028, seven years after a current eight-year pact between Fox and the league expires in 2021.
Read: Variety
Oath's Yahoo Sports and RYOT, the branded content studio launched last year, partnered with Pizza Hut to produce a sponsored video series featuring NFL players visiting local schools.
The two-part video series, called "Hometown Heroes," connects Yahoo Sports' football fandom to Pizza Hut's "Book It!" Initiative, which encourages reading among more than 14 million students in 37,000 K-6 grade schools.
Read: MediaPost
Brand: @FootLocker
Influencers: @Ronnie2K, @BenSimmons25, @DJKhaled, etc.
Agency & Campaign: BBDO // Week of Greatness
Turtle Beach Squads Up With LA Laker and Avid Gamer Josh Hart
The Details
Leading gaming headset and audio accessory brand Turtle Beach announced a new multi-year partnership as the official audio partner of Los Angeles Laker Josh Hart. Hart and Turtle Beach will also produce content highlighting the power and benefit of using high-quality audio equipment when playing on the court and online.
Hashtag Sports® reaches a community of 50,000+ innovators. Get in touch to see how we can showcase your thought leadership and content marketing initiatives.
Something missing that we should consider? Email daily@hashtagsports.com.