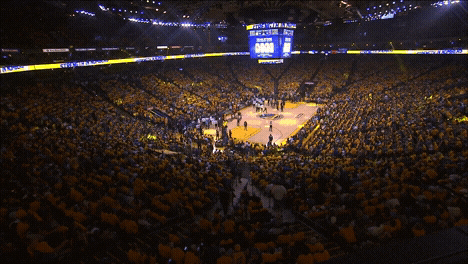 The team sent an email to fans this week offering an "In The Building Pass."
What's the deal?
Fans can purchase up to four "In The Building" passes. The team plans to sell 200 passes each month, starting in November. The pass will automatically renew each month through April.
The mobile pass does not include a seat, and with no access to the seating bowl, doesn't even include a view of the court itself. Fans still have a chance to receive one of the Warriors in-venue giveaways if they are one of the first 10,000 people into the arena.
The bottom line:
Sporting events are the new social clubs. Just ask the Atlanta Hawks' in-arena barber. It may sound absurd to some, but for the 44,000 fans stuck on the Warriors season-ticket waiting list, this is an innovative alternative for the most exciting team in basketball to create an additive fan experience.
Read: ESPN
The all-week takeover is happening this week across the regional sports network's linear and digital channels, with a mix of new and existing content.
The cameras will follow players from each team, including Kevin Knox, Ron Baker, Neal Pionk, Adam McQuaid, and Brett Howden as they visit their favorite restaurants and discuss their Thanksgiving traditions, favorite meals, and favorite hobbies outside of basketball.
Read: The Wrap
Fans both watching the race around the world and in attendance at Homestead-Miami Speedway will be able to share their race-day Snaps to a premium Our Story on Snapchat Discover.
As for other platforms, an in-car stream from one of the drivers will be livestreamed via Twitter, and a full 360-degree video camera from one of the cars will be available via NASCAR Mobile and NASCAR.com.
Read: Adweek
Name: Chris Martin
Job: Senior Creative Strategist, The Players' Tribune
In 140 characters or less, tell us who you are and how you got to where you are today.
Chris: Storyteller and Creative Strategist who got here by hard work, persistence, and faith.
As a connected fan, what's the best piece of sports content that you have recently consumed?
Chris: The best sports content that I have recently consumed is our piece with Darius Miles. Coming up in that era and remembering how culturally important that team was at that time, and for it to come full circle with a first-person editorial was pretty special. It was a story that I felt had been forgotten, but we did it justice.
What's one element of the sports industry that you'd like to see change?
Chris: The one thing I would like to see change in the sports industry is closing the dramatic wage gap between male and female athletes.
Accounting for all digital platforms—Amazon Prime Video, Twitch, NFL properties, Yahoo Sports, and Fox Sports—the average minute audience for the Steelers' 52-21 win over the Panthers was 782,000, an increase of 105% over last year (439,000).
A reported 2.2 million viewers worldwide opened a stream on Prime Video or Twitch for either the game or pregame shows last Thursday.
Read: SportTechie
Starting from the 2019-20 season, Sky Sports customers in the UK and Ireland will be able to access in-game goals and clips for mobile devices from the matches aired on the network and all other games not televised live via its digital platforms.
Read: SportsPro
Lucky Day Partners with the Los Angeles Clippers
The Details
The partnership between the Clippers and the popular lifestyle app Lucky Day will fans the opportunity to play a set of daily scratchers, raffles, and lottery - 100% risk free. In addition, the deal will include gameday signage, digital and social media activations, hospitality elements and on-court fan promotions customized to engage fans.
Hashtag Sports® reaches a community of 50,000+ innovators. Get in touch to see how we can showcase your thought leadership and content marketing initiatives.
Something missing that we should consider? Email daily@hashtagsports.com.