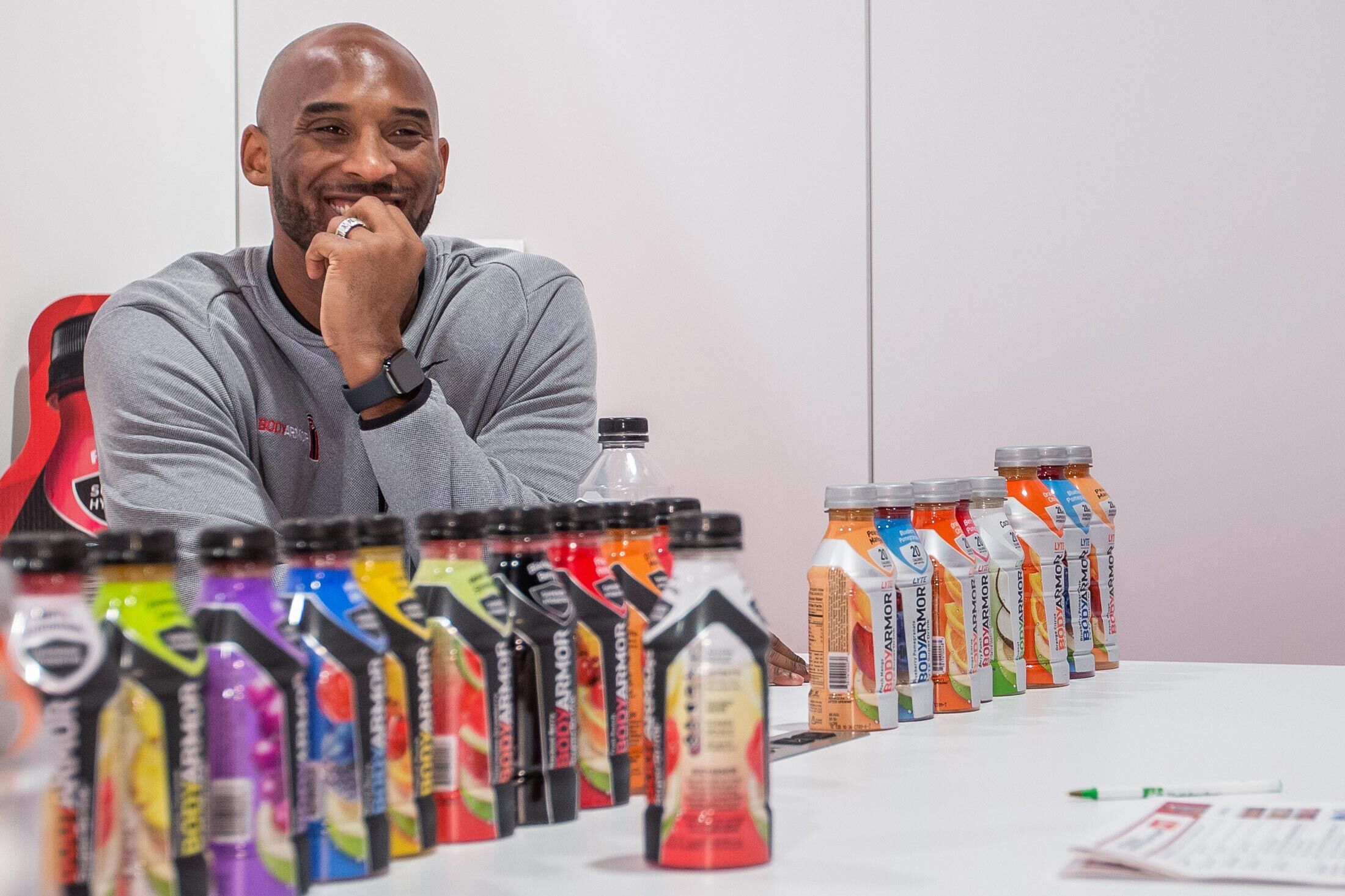 The U.S. sports drink market, which is set to cross $8 billion in sales this year, has been a duopoly for three decades.
How is Kobe involved?
Bryant was a couple weeks shy of 13 back in 1991, when Gatorade debuted its first "Be Like Mike" advertisement with MJ. Five years later, he had lived up to the tagline and was playing against Jordan. With Bodyarmor, Bryant seems once again to be following and seeking to outdo Jordan.
As celebrity investors go, Bryant is particularly active. He came up with the concept for the Bodyarmor's recent ad campaign with the cheeky tagline: "Thanks Gatorade, we'll take it from here." He also pitched the idea to the company's athlete endorsers and was on set the day Harden shot his spot.
The bottom line:
The NBA legend isn't a pitchman for Bodyarmor—he's negotiating with convenience stores and plotting to bring down Gatorade—and he's revolutionizing the athlete endorsement model in the process.
Read: Bloomberg
Through the first eight weeks of the regular season, the ratings slump that in recent years had been the source of considerable agita for the network suits and league officials alike has leveled out.
Since the opening kickoff on Sept. 6, the various NFL TV windows are averaging 15.3 million viewers, steady versus the year-ago period, and a 9.0 household rating, which marks a one percent improvement from the analogous interval in 2017.
Read: AdAge
The new hour-long program will devote itself totally to the esports industry. The show is sponsored by Logitech, whose new Logitech G brand is the first mouse designed specifically for esports pros. The company is already a prominent industry sponsor.
Read: MediaPost
Want to know one of the best kept secrets in sports? The impressively long list of Cornell University alumni who are leading the future of sports.
On November 15th at the Grand Hyatt in NYC, the university will host their second annual sports leadership summit, featuring several familiar faces: Gary Bettman, NHL Commissioner; Mike Levine, co-Head CAA Sports; and Jimmy Pitaro, president of ESPN.
Our favorite session in the lineup? The Power of Live panel taking place at 1:15 PM which will explore the evolution of attendance at live events and the need to change the way we look at sporting events from every angle.
The session will be moderated by Hashtag Sports co-founder (and Cornell alum) Steve Cobb as he's joined on-stage by:
Richard Black, CMO North America for Momentum Worldwide
Andrew Cohen, VP of Global Brand Innovation for Visa
Larry Goldman, VP for Genesco Sports Enterprises
Alan Ostfield, President of North Atlantic for Live Nation
ESPN will host a reception following the event where you can grab drinks with a slew of special special guests, including both athletes and executives.
Click here to save your seat or reach out to Tom Addonizio. We hope to see you there!
The Match is the first time that golf has ever been televised in this format, and WarnerMedia's Turner Sports is pulling out all the stops for the high-profile event with a $9 million purse at stake.
Will Funk, Turner's EVP of Sales and Property Partnerships and head of Turner Ignite Sports, shares details about the momentous event, including plans for drone coverage, custom branded content for Capital One as title sponsor, and ways social will be used to drive B/R live subscriptions.
Read: Media Village
It amounts to "a foregone conclusion" the Bronx Bombers will exercise their right of first refusal to buy the 80 percent of YES they don't own.
The Yankees obtained their refusal right in 2014, when Fox upped its stake to 80 percent in a deal that allowed a buyback should it ever sell. Its terms require Disney and the Yankees to agree to a YES buyback price.
Read: New York Post
Vineyard Vines Partners with New England Patriots and Gillette Stadium
The Details
Exclusive to Gillette Stadium, Vineyard Vines will have digital LED signage within the stadium bowl. Kicking off in 2019, products will be sold in all kiosks in premium seating areas of the stadium. Additionally, their exclusive product with the Patriots is available for purchase at the newly opened Patriot Place pop-up shop.
Hashtag Sports® reaches a community of 50,000+ innovators. Get in touch to see how we can showcase your thought leadership and content marketing initiatives.
Something missing that we should consider? Email daily@hashtagsports.com.