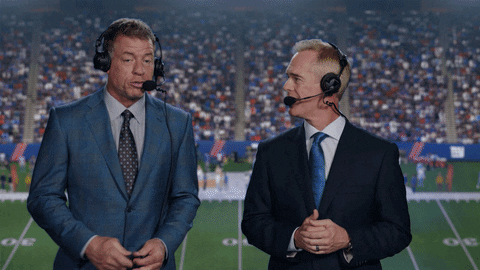 This year the NFL is allowing TV networks to run more daring placements of commercial messages – if only they drop a specific type of advertisement known in the industry as a "billboard."
What's a "billboard" in advertising?
Even the casual pigskin viewer can recognize one by sight: During a quick break between plays, the TV audience sees an on-screen graphic touting beer, a razor blade or a new movie, while the announcer tells them the broadcast is "brought to you by…"
The new scrutiny on "billboards," which have been used on TV for decades, shows how much pressure TV networks — and the advertisers who support them — are facing to change bedrock elements of the medium.
The bottom line:
Modern video fans have grown accustomed to binge-viewing programs with few commercials–sometimes none. The NFL is making small changes to ads to change the way fans perceive games.
Read: Variety
A firm date and specific format for the televised draft has not yet been finalized, but Jan. 30 and 31 have emerged as two potential targets for TNT.
The resistance last year was largely tied to fears of embarrassing the players selected last, or putting captains in a position to upset current teammates by passing over them. But numerous All-Stars said they were prepared to handle whatever touchy scenarios arose.
Read: New York Times
The deal would further expand Sportradar's already wide reach in the world of sports data. It is the official partner of the NBA, NFL, NHL, NASCAR, FIFA and the UEFA.
It covers 400,000 sporting matches annually and is the only data provider working with the NBA and NHL as a distributor of league data. MGM is also an official sports betting partner for those two leagues.
Read: Reuters
Apollo Global, one of several private-equity firms considering a bid for Disney's 22 regional sports networks, has held early talks with LeBron James' media company, Uninterrupted, about bringing them on as a strategic partner.
The 22 RSNs are highly coveted properties at a time when sports and live events are the coin of the realm for linear television. The question is what to do with those networks when the games aren't on. The talks with Uninterrupted point to a possible solution.
Read: NBC News
Fans can open the team's mobile app, created by developer YinzCam, at the "Terrible Towel Wall," point their phones at the wall and see the story behind the original Terrible Towel and all the special towels created since.
The Steelers are one of only a handful of NFL teams to introduce augmented reality into their mobile app and game-day experiences.
Read: TribLIVE
Monumental Sports and Etihad Announce Partnership Extension
The Details
As part of this extension, Etihad Airways will continue to receive a variety of branding opportunities at Capital One Arena and will work with MSE to develop new content initiatives around the sports of basketball and hockey.
Hashtag Sports® reaches a community of 50,000+ innovators. Get in touch to see how we can showcase your thought leadership and content marketing initiatives.
Something missing that we should consider? Email daily@hashtagsports.com.