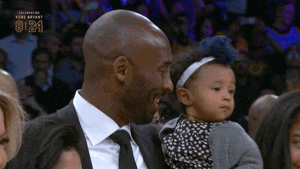 The venture is aimed at inspiring young people through books, theater, animation and live-action.
What's brewing?
Granity's new projects will start with the publication of five Middle Grade and Young Adult novels to be released in 2019 and 2020.
Bryant and team will look to develop each novel across a variety of genres including theater, animation and live-action. Unlike any athlete in the content industry, Kobe himself is conceptualizing and creating each story being released by the studio.
The bottom line:
It's clear that Kobe's creative passion isn't a phase, and he's positioning Granity as a full-fledged content house, a publisher, and a producer of multi-genre family-friendly originals with an emphasis on diversity.
Read: Variety
Viber is integrating consumer activation platform Vivoom into its FC Barcelona chatbot, to enable visitors to Camp Nou, FC Barcelona's home stadium, to create and share unique end-to-end videos.
Viber's app will allow fans to video themselves in a press conference with the media as well as running onto the pitch via the storied Camp Nou tunnel.
Read: The Drum
The Mavs unveiled a large-scale augmented reality installment for the team's home opener.
Fans can see the 68-foot by 193-foot mural of Dennis Smith Jr. in downtown Dallas and visit Mavs.com/AR to access the Facebook filter. Once the AR experience is activated, Smith comes to life for a slam dunk in AR.
Read: Marketing Dive
The longtime WFAN host started an online subscription service for $8.99 a month in late August, aiming to turn his New York broadcasting fame into a profitable business.
Estimates say that Francesa has about 2,500 current subscribers for the service, Mike's On. That's way more than the reported number of 800, but down from a peak of about 7,000 subscribers.
Read: Bloomberg
The races will be presented by a rotating team of YouTube creators, anchored by regular host Laurence McKenna, in a studio at YouTube Space London.
The partnership with YouTube is for a "supplementary streaming service", and Formula E is still working to secure another screening deal for the 2018-19 championship with other UK broadcasters.
Read: Autosport
CARD.com Partners with the NFLPA on Themed Visa Prepaid Cards
The Details
CARD.com currently has over 200 player image cards available, including superstars such as Tom Brady, Dak Prescott and Aaron Rodgers. CARD.com will be rolling out hundreds more as the season progresses, including standout rookies. Customers can sign up online for a card featuring their favorite football players.
Hashtag Sports® reaches a community of 50,000+ innovators. Get in touch to see how we can showcase your thought leadership and content marketing initiatives.
Something missing that we should consider? Email daily@hashtagsports.com.