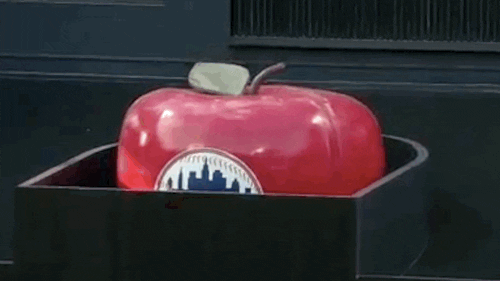 Verizon/Yahoo has signed the Mets to a three-year deal worth $3 million. If the app is not up and running by July, Verizon pays a lesser rights fee to the Mets.
What's the deal?
In February, optimistic executives from Yahoo and Verizon, the website's parent company, went public with their plans to offer subscribers an app that would give fans an insider's perspective on the Mets, including opportunities to interact with players and management.
That issue appears to be the "future" revenue made in the deal. The Mets acted as an independent operator in this deal, going outside the MLB umbrella. Either MLB bean counters didn't pay attention to what the Mets were negotiating or they were blindsided. When MLB realized what was going down, it wanted more of its teams involved in a similar deal.
The bottom line:
The Rangers, Indians and Angels are all reported to be interested. TBD whether MLB will now also get a piece of the action.
Read: New York Daily News
NASCAR announced the $2 billion purchase of International Speedway Corp. on Wednesday, an aggressive move to gain control of key racetracks and set itself up for sweeping changes that could save America's most popular racing series.
This new feature, which essentially combines Second Spectrum's 'Coach Mode', 'Player Mode' and 'Mascot Mode', debuted during game three of the NBA WCF. The platform weaves in-game stats, play and ball movement diagrams, as well as player identification and stats, live into the broadcast.
Read: AP
An electronic radar system called TrackMan will soon be calling balls and strikes in the Atlantic League, an independent East Coast league that has emerged as MLB's testing ground for new rules and equipment initiatives.
The first step in this adventure began last Thursday at parks in Bridgewater, N.J. (Somerset Patriots) and New Britain, Conn. (New Britain Bees). In a world of instant replays and booth reviews, it's not hard to imagine MLB—who will be watching this experiment closely—eventually going this route.
Read: Axios
Sports rivalries can fuel fans and athletes to fight and argue for years. But what's the real story behind these epic rivalries?
From Wondery, the storytellers behind "Business Wars," "Dirty John," and "American Scandal" comes Sports Wars, an electric new podcast that offers an inside look at some of the all-time greatest team rivalries, shocking showdowns, and beef between iconic athletes.
First up? Host Dan Rubenstein (Sports Illustrated, SB Nation) uncovers the rarely told tantrums and triumphs that rocked Titletown as Mississippi gunslinger Brett Favre and his inevitable successor Aaron Rodgers battled for the Packers' starting quarterback spot.
Click HERE to listen to episodes of Sports Wars—a series of escapist sports stories sure to have you searching for an extra set of headphones at the office.
Michael McCarthy was named general manager of the new network formed by Sinclair Broadcast Group and the Chicago Cubs, called the Marquee Sports Network. The former president of MSG Network has been consulting with the Cubs since last year helping the team evaluate starting a network and formulating a launch strategy.
The new network is expected to be the exclusive television home of all local Cubs games, displacing current outlets including NBC SportsNet and WGN-TV, which has aired the team's games for 71 years.
Read: Broadcasting & Cable
Wasn't sports betting supposed to be easy money for NFL teams? A look at the many factors—two states, tribal lands and casinos, 'integrity fees,' and the dark, complicated history of legalized gambling in the South—the Carolina Panthers and the NFL's richest owner are navigating in the quest for sports gambling revenue.
Read: Sports Illustrated
Brand & Campaign: @BWWings // Playoffs: Not a Rom-Com
Influencer: @BobMenery
Agency: The Martin Agency
State Farm Extends Its League of Legends Sponsorship Through 2021
The Details
State Farm started its sponsorship in 2018, and will continue to support the North America League of Legends Championship Series (LCS), as well as three "League of Legends" esports events: the League of Legends World Championship, the Mid-Season Invitational, and the All-Star Event. The sponsorship will extend through to 2021 with the League of Legends World Championships event, which will be held in North America.
Get a Referral Code Today
The Hashtag Sports Ambassador program rewards our most loyal readers and followers and connects our community like never before. Share your code to earn swag and free event tickets for life.
Hashtag Sports® reaches a community of 50,000+ innovators. Get in touch to see how we can showcase your thought leadership and content marketing initiatives.
Something missing that we should consider? Email daily@hashtagsports.com.