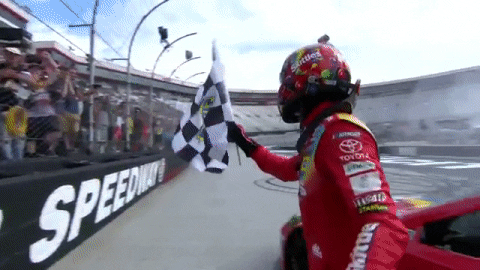 The partnership will serve as part of the sport's continued push to educate and engage fans around legalized sports betting.
What are the details?
Each week, NASCAR.com will feature content and analysis from The Action Network including expert PJ Walsh's picks for NASCAR's new props game, the NASCAR Props Challenge™. The Action Network will also share recommended picks and value bets for race winners and head-to-head driver matchups via race-day content published on NASCAR's digital platform.
Sports content is considered extremely valuable because it continues to draw the largest audiences on television and is mostly viewed live, putting a premium on game-time advertising, but the business of operating regional sports networks has become difficult in recent years.
The bottom line:
The announcement is the latest in a series of partnerships designed to prepare NASCAR, the industry and fans for the future of sports betting in the U.S., after news last week of a betting data deal with Genius Sports.
Read: Action Network
Denver Nuggets' centre Nikola Jokić has been instrumental to that huge increase in subscribers in his native country throughout the 2018-19 season, evident by a 400% spike in subscriptions to the over-the-top service in Serbia. Similarly, Slovenian star Luka Dončić has also spearheaded a 186% rise in League Pass subscribers in his native country.
The surge in overseas viewership could well be the result of changes to the NBA's global digital offering also, which came into play earlier this year and now includes an option on its International League Pass that allows fans to buy any ten-minute period in a game for .99 cents.
Read: SportsPro
We will someday look back on the sale of Fox's RSNs as the moment when the sports rights bubble began to burst. Analysts predicted that they would fetch between $20B and $22B. Instead, Sinclair Broadcast Group agreed to buy them for $10.6B. True, the YES Network that broadcasts the New York Yankees — by far the most valuable of the RSNs — was not part of the deal, as the Yankees bought it back for $3.47B.
Even so, that means that the Fox networks garnered between $6 billion and $8 billion less than Disney had hoped, and consumers thirst for RSNs is lowest among live sports. To cut down on bills, many people are moving to skinny bundles. These bundles often have ESPN and the major networks, but avoid the RSNs to keep costs down. Even dedicated sports fans seem willing to live without them.
Read: Bloomberg
How many minutes a day do you spend thinking about sports highlights?
You probably don't, but now that we've got you thinking about sports highlights, think about this: imagine the ability to not only choose from an enormous amount of sports highlights to watch but actually having personalized content created just for you based on your preferred sports, teams and players.
This revolution in the way fans consume sports is well underway. Sports content has moved from 'what you see is what you get' content, to 'choose from an existing selection,' such as a Video on Demand platform, and is now heading towards fans having more control of what they view - Video on Command, if you will.
Ongoing technological advancements on the rights holders' side are helping us reach this next step in the revolution of sports consumption.
Curious about the revolution? Click HERE to learn more.
The agreement marks a pivotal moment for both parties as the CAA becomes the first college conference to select a streaming OTT, direct-to-consumer company as their primary media partner. The agreement calls for approximately 50 football games, 140 men's and women's basketball contests, and an additional 110 events, including the majority of conference championships to air on the network each year.
The CAA member institutions will have the flexibility through their partnership with FloSports to retain local linear exposure. The conference will also maintain its relationship with LAX Sports Network for coverage of CAA men's and women's lacrosse, while other events will remain on CAA.TV, the conference's digital network.
Read: SVG
The brand is one of the first to test Instagram's checkout feature. In exchange for being part of the marketplace, Adidas and the other 19 brands currently taking part in the closed beta pay a fee to Instagram to sell their products directly via the app. It's a price that has been worth it so far, said the Adidas' CEO, Kasper Rorsted.
Unlike previous sales tools Adidas has tested on Instagram, the checkout feature means fans aren't taken to a pop-up version of the brand's site to complete the sale. Having the sale happen directly from inside the app is meant to inspire people to shop more and make them less likely to abandon products now they don't have to leave one app for a separate site.
Read: Digiday
Orioles Partner Up with PepsiCo
The Details
The Baltimore Orioles and PepsiCo announced a partnership naming PepsiCo the official and exclusive soft drink, bottled water, bottled coffee, and energy drink of the Orioles. The multiyear agreement guarantees exclusivity and includes signage throughout historic Oriole Park at Camden Yards, home of the Orioles. The partnership also features various promotional elements across a variety of Orioles platforms. As part of the partnership, the Orioles will introduce a new Pepsi Bundle ticket package available for for fans which includes a game ticket, drink, and food item.
Get a Referral Code Today
The Hashtag Sports Ambassador program rewards our most loyal readers and followers and connects our community like never before. Share your code to earn swag and free event tickets for life.
Hashtag Sports® reaches a community of 50,000+ innovators. Get in touch to see how we can showcase your thought leadership and content marketing initiatives.
Something missing that we should consider? Email daily@hashtagsports.com.