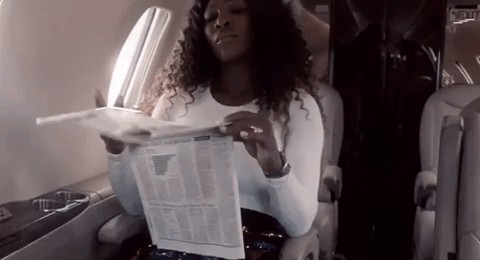 Serena Williams, tennis pro, mom, influencer and entrepreneur, is out to conquer another world: investing.
How did she do it?
Williams wrote in a post to her 10.9 million Instagram followers that she's been quietly investing in a variety of start-ups through the firm since 2014. The firm's website lists the 30 start-ups in the VC's portfolio, so far. The offerings range from food delivery and razors to cryptocurrencies.
She says that the firm focuses on investing in diverse companies with young founders and that foster collaboration. In her Instagram post, she wrote "Serena Ventures invests in companies that embrace diverse leadership, individual empowerment, creativity and opportunity."
The bottom line:
The rising tide of athletes who are investing continues and for Serena, to use Instagram to announce her ambitions is an indication of the power of social media for athletes to share their lives outside of sports.
Read: Ad Age
U.S. Soccer (and MLS) just announced a new partnership with Headspace, an online healthcare company that specializes in mindfulness and meditation and provides specialized, personalized mental training programs that improve focus and concentration, reduce anxiety and stress, improve sleep... in short, top-line meditation training to optimize each player's mental conditioning.
On the field performance obviously matters, but "off the field" is also important to U.S. Soccer officials. That's especially important in such a high-pressure environment. Like the rest of us, players deal with the daily struggles and stresses of life... but then have to perform on a world stage in front of millions of people.
Read: Inc.
It's game time. A mobile notification confirms you're inside the venue and directs you to your seat. The pings keep coming. Hungry? Here's a map of food trucks inside Moda Center. Thirsty? Here's a map of beer vendors. Because, like an overbearing aunt, your latest iPhone—and so, Moda Center (home of the Portland Trailblazers)—knows all. This isn't some fantasy—it's a reality that's already beginning to play out.
Teams and sports venues across the country are increasingly turning to big data firms to track, decipher and use data drawn from fans to understand how they can keep them coming to games, while also making stadiums more secure and processes more streamlined.
Read: OZY
It's time to book your New York City travel and >hotel for the premier forum for education surrounding fan engagement: Hashtag Sports 2019. Our annual conference will host 1,200 senior media and marketing professional June 26-27 at TimesCenter.
The 2019 agenda overview and first ten sessions are now live online! Take a peek at just a few of the topics that will help you become an engagement expert. With four unique tracks each day, there is something for everyone.
Called Daniel LaRusso vs. Johnny Lawrence, the special revisits the 1984 Under Eighteen All Valley Karate Tournament as part of YouTube Premium's promotion for Season 2 of Cobra Kai, which debuts April 24. In true 30 for 30 fashion, the segment spotlights controversies surrounding the fictional event.
And while the series has boosted YouTube Premium, YouTube has subsequently changed its approach to original content and is focusing more on unscripted fare going forward. But, the company is still putting its marketing muscle behind Cobra Kai, judging by the new 30 for 30 segment.
Read: Adweek
If you're a keen Fortnite player or avid battle royale Twitch viewer, you'll probably know that qualifying for the inaugural Fortnite World Cup has officially begun. However, that might not be the only way. Epic Games has confirmed there will be another avenue for those burnt out by its battle royale mode to claim some of that World Cup prize pot.
The company has announced a new mode for its upcoming competition: World Cup Creative. Between April 29th and June 7th, Fortnite will host "five showcase events" that will invite players to complete unique Creative trials -- courses built by inventive designers -- and submit their best attempts by way of a YouTube video. Epic's dedicated Fortnite captains will then choose the best submissions and select fifteen participants to battle it out.
Read: Engadget
Jacksonville Jaguars Expand Global Partnership with Lycamobile
The Details
Following success as an Official Founding Partner to the Jaguars in the UK, Lycamobile expanded its sponsorship to become part of the Jaguars Jamboree – the most significant group of corporate partners in the Jaguars family. The multi-year, multi-million dollar partnership will provide Lycamobile with a gateway to a global audience through the NFL and Jaguars. The partnership will see Lycamobile benefit from transatlantic branding opportunities, and will join the Jaguars in creating exclusive behind-the-scenes content for the US and the UK market. Both the Jaguars and Lycamobile are collaborating on new fan activations both in the UK and US, bringing new and unique experiences to fans in both markets on a year-round basis.
Get a Referral Code Today
The Hashtag Sports Ambassador program rewards our most loyal readers and followers and connects our community like never before. Share your code to earn swag and free event tickets for life.
Hashtag Sports® reaches a community of 50,000+ innovators. Get in touch to see how we can showcase your thought leadership and content marketing initiatives.
Something missing that we should consider? Email daily@hashtagsports.com.