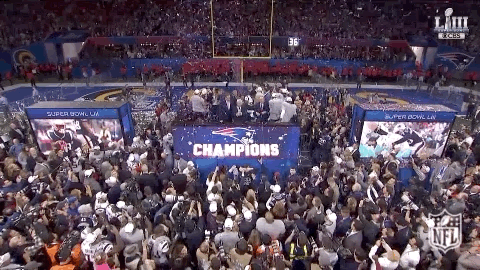 On Location Experiences is nearing a sale to Endeavor for roughly $650 million to $700 million.
What are the details?
The high-end events business partly owned by the NFL, offers luxury travel, accommodations, and experiences like on-field and post-game access at the Super Bowl and international sports events. It also has a number of major rights in its portfolio, including deals with the NCAA, the Masters, grand slam tennis events and the Ryder Cup.
On Location began exploring a sale after receiving expressions of interest last year. The company generated about $600 million in revenue with about 40 percent of profit related to the NFL, another 40 percent coming from other sports and 20 percent attributed to music and travel.
The bottom line:
Endeavor has been adding to its entertainment assets, which include the UFC and Miss Universe, and this looks to be another opportunity to diversify their portfolio within the greater entertainment industry.
Read: Bloomberg
The Pound It Noggin Tour is scheduled to hit 20 U.S. cities this summer. In the live shows, the Dude Perfect dudes — Tyler Toney, Cody Jones, Garrett Hilbert, and twins Coby and Cory Cotton — will present favorite bits including Overtime, Stereotypes, Battles and stunts. A few fans will even be invited to participate in the on-stage action.
Known for their elaborate trick-shot videos, Dude Perfect has nearly has nearly 41 million subscribers on YouTube and has racked up 7.6 billion views to date. The five friends from Frisco, Texas, have over 70 million social-media followers and are one of top 10 most popular channels on YouTube.
Read: Variety
Paul "Triple H" Levesque announced that the cable channel will launch a new weekly WWE studio show this fall. Triple H, who has been the executive vice president of talent, live events and creative for WWE since 2013 and is considered NXT's biggest champion shared that a studio show is something he's "wanted to happen for a very long time."
Airing on Tuesday nights, the studio show will cover Raw, SmackDown and minor-league system, NXT. It will also feature some very faces familiar to the WWE Universe, both from the past and the present.
Read: The Wrap
It's time to book your New York City travel and hotel for the premier forum for education surrounding fan engagement: Hashtag Sports 2019. Our annual conference will host 1,200 senior media and marketing professional June 26-27 at TimesCenter.
The 2019 agenda overview and first ten sessions are now live online! Take a peek at just a few of the topics that will help you become an engagement expert. With four unique tracks each day, there is something for everyone.
Following speculation in regards to the folding of the AAF, it has emerged that MGM Resorts stands to gain control of the league's interactive gaming platform. After suspending all football operations just eight weeks into its inaugural season, reports emerged suggesting that majority owner Tom Dundon had acquired his controlling stake in the league in order to gain control of its business technology.
However, the June 2018 deal that saw the casino and hotels company MGM invest into the AAF's technology arm, Legendary Field Exhibitions, included a provision that the casino would gain its rights should the league fold.
Read: SportsPro, The Action Network
Rory Brown is leaving Turner's Bleacher Report after a decade to join MTV in a newly created position as head of digital and social media for the MTV, VH1, CMT and Logo brands.
Under Brown's leadership, Bleacher Report has grown to be the No. 1 brand among sports networks in social engagement and news of his departure from Bleacher Report comes as CEO and co-founder Dave Finocchio is also set to leave.
Read: Variety
FedEx to Deliver UEFA EURO 2020 as Official Logistics Partner
The Details
FedEx Express is further extending its support of football in Europe, with the world's largest express transportation company announcing a new four-year multi-tournament sponsorship deal with UEFA. The agreement will cover more than 400 competitive national team football matches played across 55 European countries in eight tournaments, while FedEx Express will also be the Official Logistics Partner of UEFA EURO 2020. FedEx Express' extensive networks, as well their skilled logistics personnel, will help to support the staging and delivery of UEFA EURO 2020 in 12 host cities across Europe.
Get a Referral Code Today
The Hashtag Sports Ambassador program rewards our most loyal readers and followers and connects our community like never before. Share your code to earn swag and free event tickets for life.
Hashtag Sports® reaches a community of 50,000+ innovators. Get in touch to see how we can showcase your thought leadership and content marketing initiatives.
Something missing that we should consider? Email daily@hashtagsports.com.