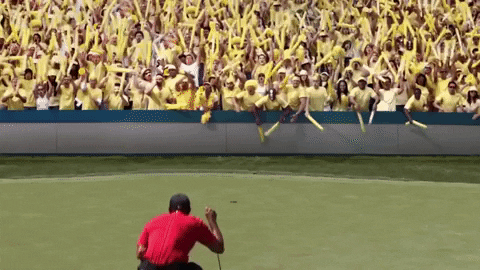 Discovery's CEO, David Zaslav, said the first match has already been planned for Tokyo and that most of the events will take place outside the U.S.
What are the details?
GolfTV, the live and on-demand video service Discovery launched with the PGA Tour in 2018, announced last fall that Woods had agreed to a multi-year partnership that will offer global audiences an unprecedented look into Woods' game and his life on and off the course.
The news comes four months after Woods engaged in a made-for-TV spectacle with Phil Mickelson, produced in part by Turner Sports. It was believed that the match between the two icons, despite a multitude of marketing and production stumbles, would be the first of many. But the departure of Turner Sports president David Levy from the company muddled the series' future.
The bottom line:
If the showdown was a case study for taking unconventional measures to attract casual sports fans to golf, GolfTV saw it as a success, and will continue leveraging Tiger's influence to reach the type of fans who currently only tune into the sport during The Masters.
Read: Golf Digest, Sports Illustrated
Games will be shown on CBS and CBS Sports Network as part of the exclusive deal, with more than 20 hours throughout the season on the former and more than 25 hours on the latter.
During the offseason, Big3 added some noteworthy players to the league, including Jason Terry, Joe Johnson, Josh Smith, Kendrick Perkins, Shannon Brown, Gilbert Arenas, Al Jefferson and Lamar Odom.
Read: Deadline
The Mexican actress acquired an equity stake in Combate Americas, an MMA sports entertainment company targeting Hispanic audiences, as part of a $20 million Series B round of funding, bringing the company to $38 million raised to date.
Combate Americas CEO Campbell McLaren is hopeful del Castillo will bring cachet to MMA and broaden its appeal among Hispanic audiences, adding that nearly half of the franchise's fanbase is female.
Read: Variety
Connecting with the modern fan is no easy feat—and it's time your team gets the recognition that's deserved. Winning a Hashtag Sports award will place you among the sports media & marketing industry's engagement elite and open up a world of new business and new opportunities.
Been meaning to enter? Don't let the clock run out! Submit your content, campaigns, and live experiences no later than tonight at midnight (ET)!
Beginning with the 2018 men's tournament at T-Mobile, the networks have ramped up the number of on-site broadcasts tied to football and men's basketball, effectively doubling-down on the money makers as a means of increasing fan affinity across every campus.
Promoting the universities generally and sports teams specifically is a core mission of the seven-year old networks, and there's no greater marketing tool than football. But for years, they seemed to treat football the same as the Olympic sports.
Read: Mercury News
By now, you've likely seen Clear fingerprint-identification kiosks at an airport as you waited in line. The company is in 28 U.S. airports, and lets you scan two fingers to skip the I.D. part of the line, for a membership price of $15 per month. But soon, more people may first associate Clear with sports.
The company this week is launching at three more MLB venues: Camden Yards, Target Field, and Globe Life Park. That brings its total to 11 ballparks, out of MLB's 30 teams. With MLB ballpark attendance declining, the league hopes the convenience of skipping turnstile lines could be a genuine sweetener for fans.
Read: Yahoo
Formula One Names Puma as Exclusive Retailer
The Details
Global motorsport series Formula One has named German sportswear manufacturer Puma as its exclusive official retailer. The long-term deal consolidates Puma's role in Formula One, with the company already holding clothing partnerships with Mercedes, Ferrari and Red Bull. As part of the agreement, Puma will install official stores at 17 of the races on the 2019 calendar. The brand will also provide racing overalls for the new women's only racing promotion – W Series.
Get a Referral Code Today
The Hashtag Sports Ambassador program rewards our most loyal readers and followers and connects our community like never before. Share your code to earn swag and free event tickets for life.
Hashtag Sports® reaches a community of 50,000+ innovators. Get in touch to see how we can showcase your thought leadership and content marketing initiatives.
Something missing that we should consider? Email daily@hashtagsports.com.