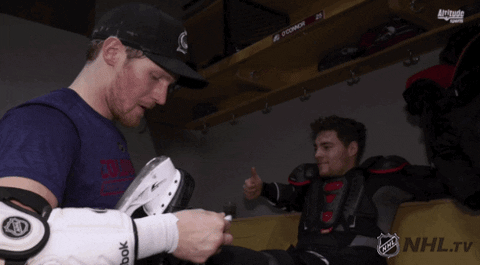 While the NHL has taken digital media buying in-house, it will continue to work with outside agencies and productions studios on creative.
What are the details?
In the fourth quarter of 2018, the NHL's CMO, Heidi Browning, brought the league's digital media buying in-house in an effort to better use its content—including a pair of original episodic shows—to find segments of casual observers, convert them into documented fans and use the corresponding data to find more of them.
Understanding its fans is particularly important for the NHL at the moment because the league's content is having a bit of a moment. TV and digital viewership of NHL games have grown compared to last year. As of March 7, the average TV viewership for NBC's broadcasts of NHL games had increased by 10% year over year to 1.42 million viewers.
The bottom line:
The NHL is especially interested in appealing to younger fans, specifically millennials and members of Generation Z. That audience segment explains why the league spends a lot of its ad dollars on social platforms. And that social spending would help to explain the decision by the NHL to take its media buying in house.
Read: Digiday
NBA Superstar Steph Curry is set to executive produce the ABC extreme mini-golf competition series Holey Moley from Eureka Productions and Unanimous Media.
As the first series of its kind, the 10-episode mini-golf competition will showcase self-proclaimed mini-golf lovers from around the country as they compete head-to-head through an unparalleled, epic obstacle golf course. In addition to being executive producer, Curry will be the resident golf pro of the Holey Moley course and appear in every episode.
Read: Deadline
The leaders behind the popular visual social media platform liked what they saw from the 21-year-old junior—the video snippets mixed with photos mixed with quippy, catchy captions and updated scores.
Will Yoder, with Instagram Sports Partnerships, was watching as Gillam created her IU posts throughout the year. He said Gillam used the various tools in her Instagram Stories exactly the way they were meant to be used.
Read: The Indianapolis Star
Connecting with the modern fan is no easy feat—and it's time your team gets the recognition that's well-deserved. Winning a Hashtag Sports award will place you among the sports media & marketing industry's engagement elite and open up a world of new business and new opportunities.
Been meaning to enter? Don't let the clock run out! Submit your content, campaigns, and live experiences no later than this Friday, April 5th.
A study from gambling consultant Spectrum Gaming Group says imposing the controversial royalty—also called an integrity fee—could generate more money for sportsbooks and states because of greater cooperation from the leagues.
MLB executives said states that agree to a royalty fee would also see the league become a much more willing partner in expanding gambling within their borders. That could mean more tie-ins with local teams, promotion via MLB's website and social media, and access to the league's official data.
Read: Bloomberg
As sports venues evolve to counter the increasingly immersive broadcast experience that fans get at home, the UK has fired its latest salvo in the battle: Tottenham Hotspur Stadium.
Head of Technology Sanjeev Katwa also emphasizes that the new venue meets the NFL's media-tech requirements, in part by working with the same vendors the league collaborates with in the US, such as Harman Professional and Daktronics. "The NFL is a show, and we are ready for the NFL," he says. "Be it sound or or lights—the three key things—we're ready for the NFL."
Read: Sports Video Group
HyperX Renews Partnership With NBA 2K League
The Details
HyperX, the gaming division of Kingston Technology Company Inc., today announced their partnership renewal with the NBA 2K League ahead of its second season. With the NBA 2K League's THE TIPOFF starting this week, HyperX continues as the Official Gaming Headset of the league and will provide gaming headsets for all league gameplay and events. Additionally, HyperX has partnerships at the team level with many NBA 2K League teams including HEAT Check Gaming, Mavs Gaming, NetsGC, T-Wolves Gaming and 76ers Gaming Club. The team practice facilities will also be equipped with HyperX gaming headsets.
Get a Referral Code Today
The Hashtag Sports Ambassador program rewards our most loyal readers and followers and connects our community like never before. Share your code to earn swag and free event tickets for life.
Hashtag Sports® reaches a community of 50,000+ innovators. Get in touch to see how we can showcase your thought leadership and content marketing initiatives.
Something missing that we should consider? Email daily@hashtagsports.com.